As part of National Home Security Month, the Absolute Security Systems team are highlighting various ways to keep your home and possessions secure
The padlock reinvented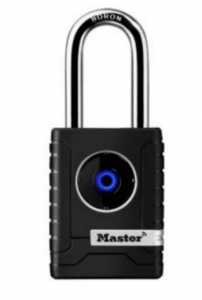 One exciting innovation has been Bluetooth 'smart' padlocks from Master  Lock®. They offer total control when protecting the most important valuables. This is because Bluetooth Padlocks can only be unlocked using an app on your smartphone. This versatility allows you to unlock the lock and give friends or relatives access when needed.
They are ideal for giving added security to garages, gates, sheds, bikes, outbuildings, storage units etc.
The related app with the lock allows you to control access to your designated area and review the entry log from the comfort of your phone. Bluetooth Padlocks can also offer temporary access when required and inform you of tamper alerts via e-mail when an unauthorised attempt to open the lock is made.
The padlock is battery operated and comes with a low battery notification and reminders on the padlock and in app. The battery is easily replaced and an inbuilt battery jump allows for temporary access if the battery dies while locked.
Beneficial for businesses and homeowners alike
The Bluetooth Padlock is beneficial for both businesses and homeowners looking to protect stock, equipment and possessions.
In addition there is also a Bluetooth Lockbox. This is ideal for those having to manage many locks and users.
Access to the Lockbox is gained via your Smartphone Backup using a numeric code on the lock keypad and you can share access with others on a temporary or permanent basis.  The Bluetooth Lockbox has a Master Lock® Vault Enterprise IOS or Android app to control access. It too comes with low battery notification and includes mounting hardware for easy hardware. It is ideal for those looking for a large secure storage capacity for keys and access cards.
Contact us to learn more
If you would like to learn more about smart padlocks of added security for your possessions, please contact the Absolute Security Systems team on t 01483 791500 or email sales@absolutesecurity.co.uk
https://www.absolutesecurity.co.uk/wp-content/uploads/2019/10/App-lock-symbol.jpg
547
875
Absolute Security
https://www.absolutesecurity.co.uk/wp-content/uploads/2015/10/logo-300x134.png
Absolute Security
2019-10-07 08:00:33
2019-10-04 09:35:58
Bluetooth smart padlocks